Telsa Professional Ceramic Coating Ohio
If you're tired of spending hours cleaning your Tesla and not getting the results you want, ZJ Detailing has the perfect solution for you. Our ceramic coating services provide a professional application that leaves your car with a glossy, smooth finish that repels dirt, water, and other contaminants. With our ceramic coating, you can spend less time cleaning your Tesla and more time enjoying the ride. Contact us today to schedule an appointment and experience the difference for yourself.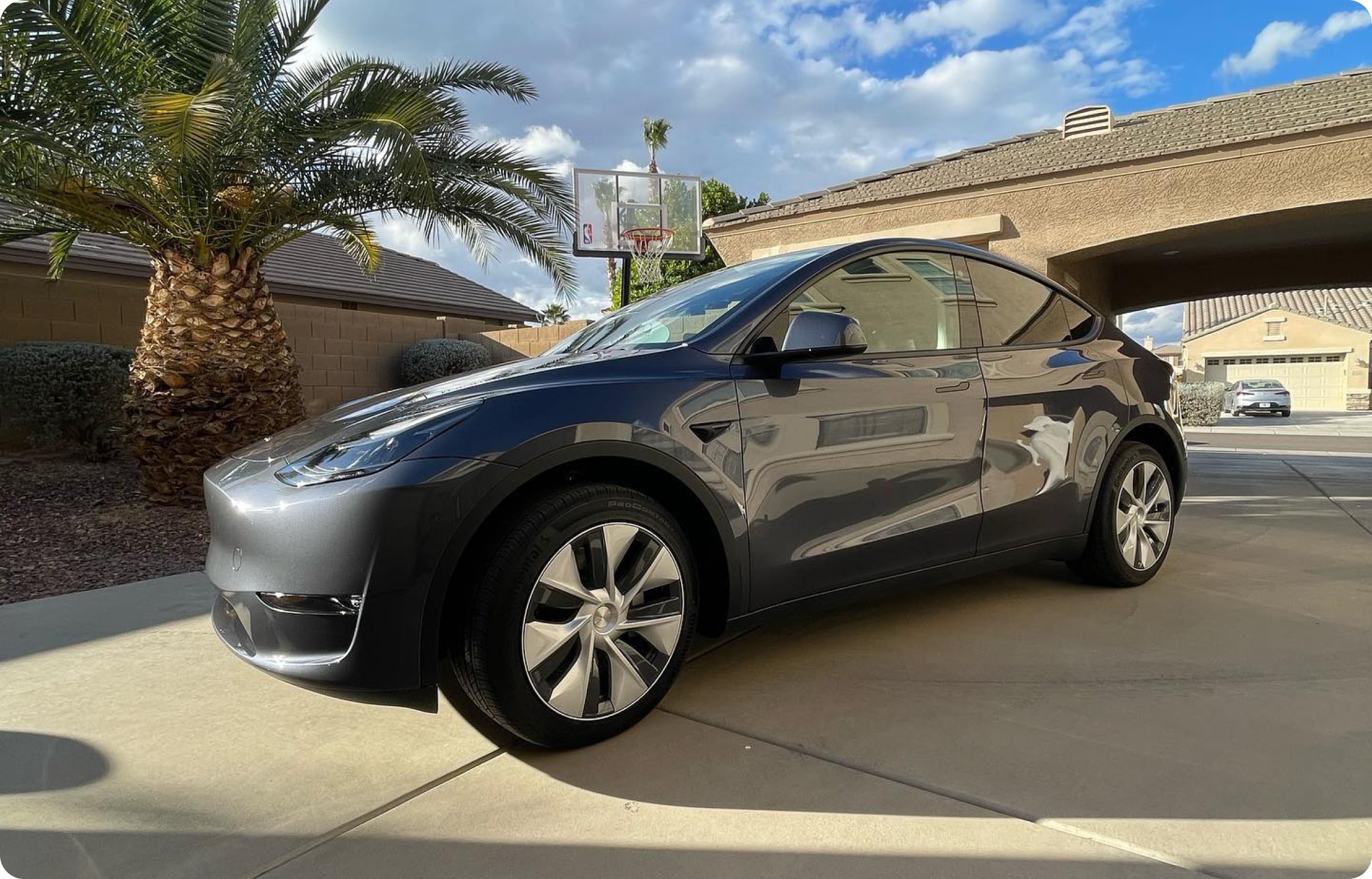 Tesla Ceramic Coating in Ohio
If your car is exposed to the harsh elements of Ohio's seasons, it's important to protect its paint and finish. That's where ZJ Detailing Tesla Ceramic Coating comes in. This clear, ceramic sealant creates a layer of protection for your vehicle against corrosive road debris, UV damage, and road salt accumulation. Tested and approved by none other than the engineers of the renowned car industry themselves. Our Ceramic Coating is only available through certified detailing shops like ours. With up to 9 year warranty, you can trust that your investment will be protected for years to come. Contact us today to schedule your appointment and experience the benefits of Tesla Ceramic Coating. For even more protection, check out our Tesla Paint Protection Film.
Benefits of Tesla Ceramic Coatings OH
Enhances the look of the paint
When we apply our Ceramic Coatings it will give your vehicle a gloss that you won't believe.
Additional layer of protection from elements
Ceramic Coatings protect your vehicle from being damaged by bird droppings, tar, tree sap & corrosion from salty road conditions
Car stays cleaner for longer
The Ceramic Coatings we offer have self cleaning properties which will allow dirt to roll off the paint much easier, keeping your vehicle cleaner for longer periods of time.
When a Ceramic Coating is applied by a professional like ZJ Detailing. We can guarantee they are going to last a full lifetime of the coating, we offer 1 – 9 year Ceramic Coatings.
No waxing or sealing for the life of the coating
When our ceramic coatings are applied to your paint it creates a powerful bond which cannot be washed away.
Makes removing bugs a breeze
We all know the pain of trying to remove bugs that have been baked on your vehicle's paint. Ceramic Coatings are here help you avoid that, Bugs are going to be easy to remove.
Tesla Ceramic Coating Packages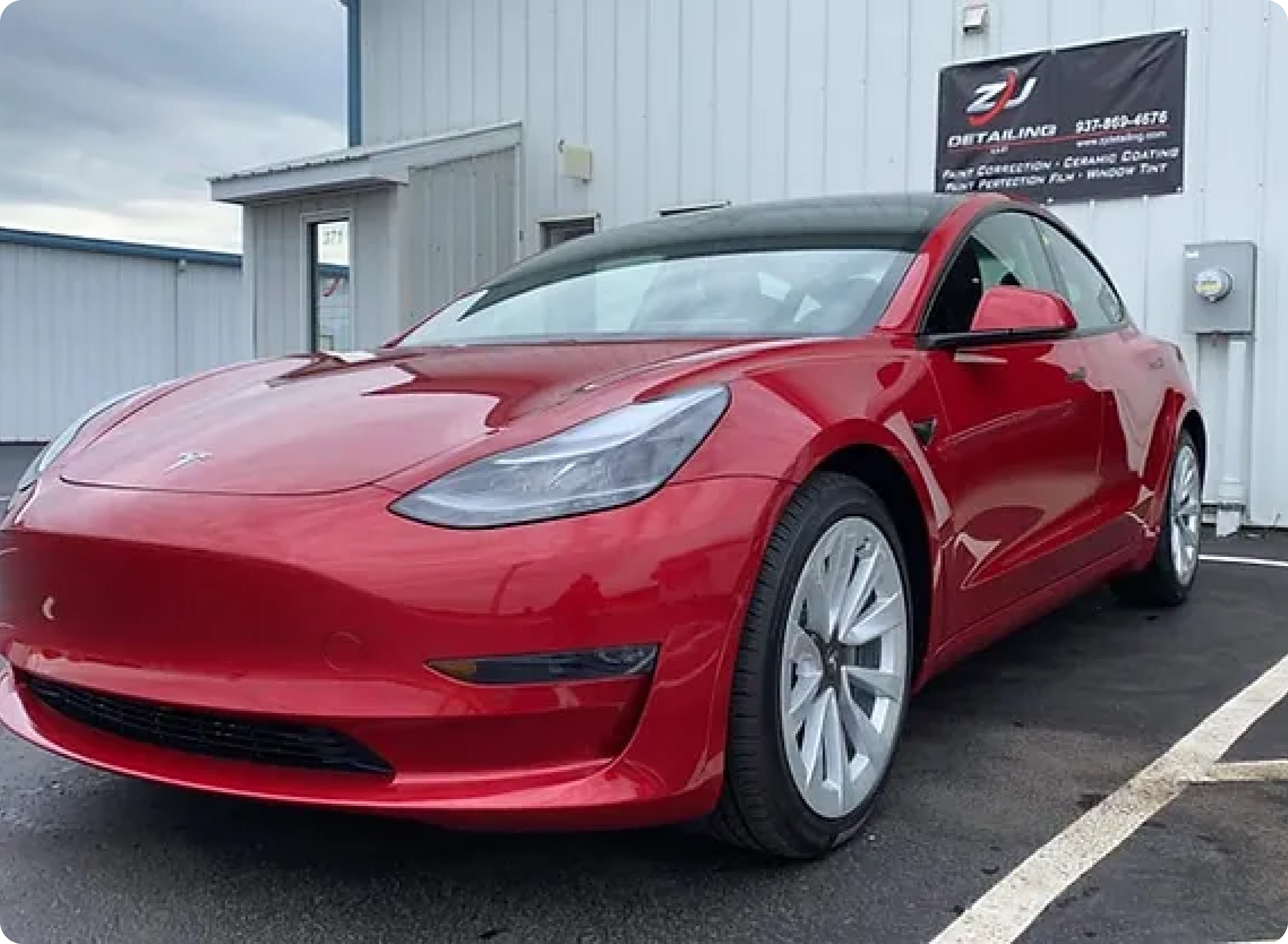 Executive Tesla Ceramic Coating
Full 2 Stage Paint Correction (85-95% scratch removal guaranteed.)
Wheels taken off, deep cleaned, inner barrel and faces of rims coated with Wheel coating
All Glass Ceramic Coated with System X Glass
Headlights Ceramic Coated
Engine Bay Cleaned and Shined
Full interior detail
1 layer of our in house 9 year ceramic coating application
Reported to Car Fax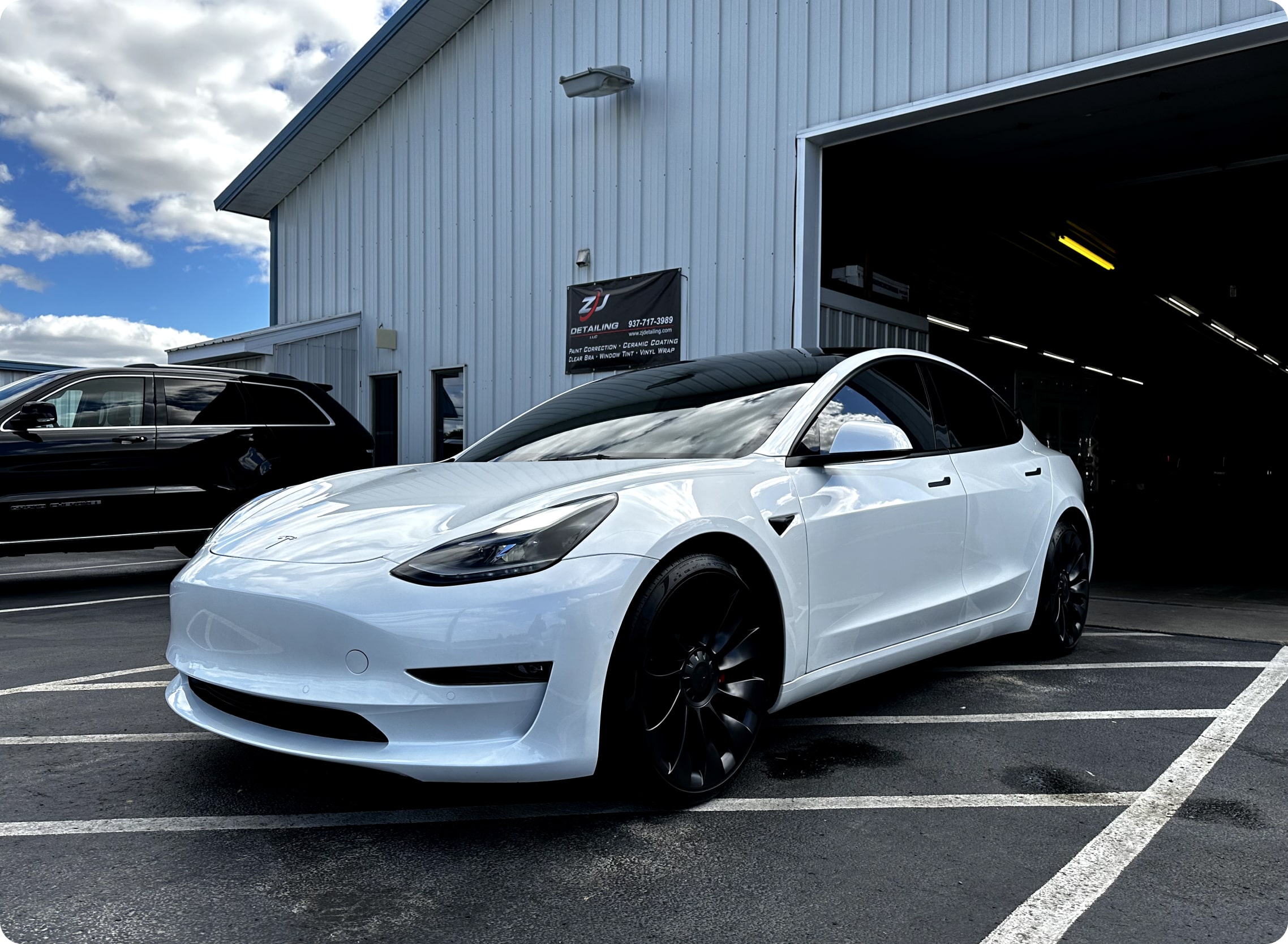 Level 3 Tesla Ceramic Coating
9/10 customers choose this package*
Full 2 Stage Paint Correction (85-95% scratch removal guaranteed.)
Wheels Faces Ceramic Coated
Windshield Glass Ceramic Coated with System X Glass
Headlights Ceramic Coated
1 layer our in house 9 year ceramic coating application
Reported to Car Fax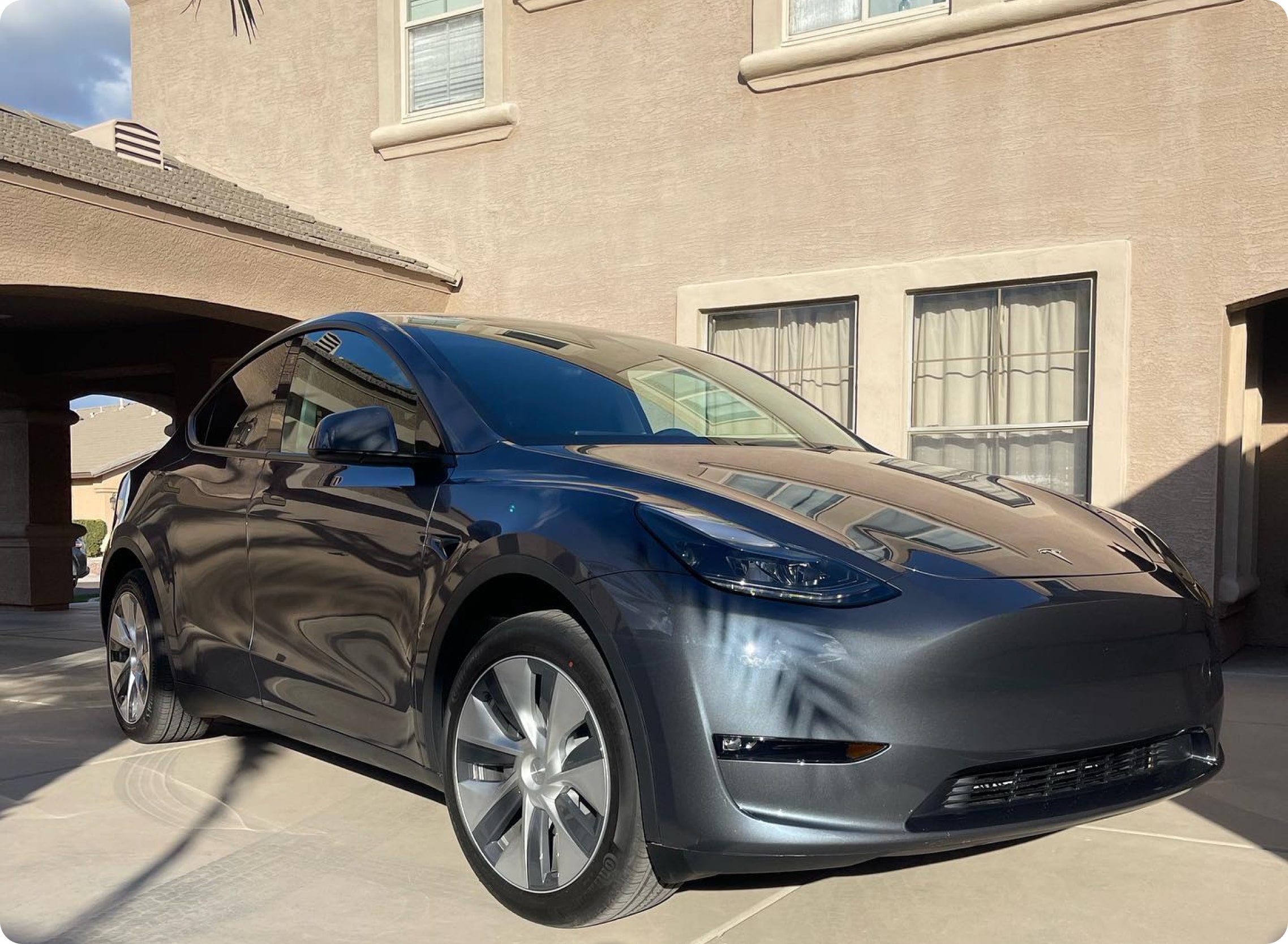 Level 2 Tesla
Ceramic Coating
Full one step correction (65-75% Scratch Removal)
Rims and tires cleaned
Wheel Faces Ceramic Coated with wheel ceramic coating
Headlight Ceramic Coating
Windshield Ceramic Coating
5 Year Ceramic Coating Application
Reported to Car Fax
Level 1 Tesla Ceramic Coating
Enhancement Polish (55-65% Scratch Removal)
2 year Ceramic Coating
Rims and tires cleaned
Tires shined
Reported to Car Fax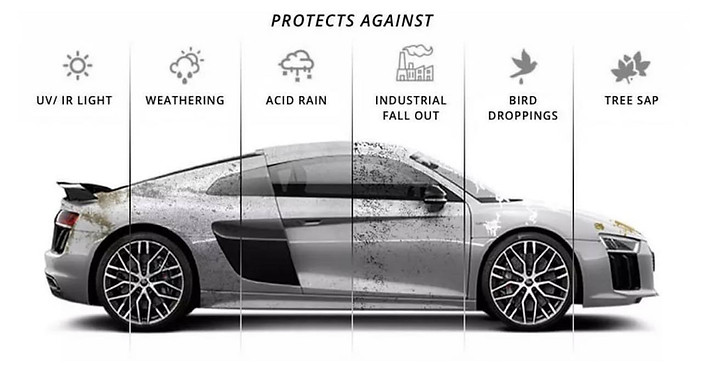 What Is Ceramic Coating?
Ceramic coating is a type of automotive paint protection that is applied in a liquid form and cures to form a hard, protective layer on top of the paint. This layer is made up of nanoscopic ceramic particles that are incredibly durable and resistant to scratches, chips, and other types of damage.
What are the benefits of ceramic coating?
One of the main benefits of ceramic coating is its longevity. Unlike traditional waxes and sealants, which need to be reapplied regularly, ceramic coating can last for several years with proper maintenance. This makes it a cost-effective way to protect your vehicle's paint and preserve its value. Plus will cut your cleaning time in half!
When should I get my vehicle Ceramic Coated?
It is generally recommended to get your vehicle ceramic coated as soon as possible after purchase. This is because ceramic coating provides long-lasting protection for your vehicle's paint, helping to prevent scratches, chips, and other types of damage. By applying the coating as soon as possible, you can help to preserve the factory finish and keep your vehicle looking like new for longer.
However, even if you have had your vehicle for a while, it's not too late to get it coated. Ceramic coating can still provide significant benefits to your vehicle's paint, even if it is not brand new. It can help to restore the factory finish and protect your vehicle from further damage.
A Ceramic Coating is a product that is applied to your vehicle to protect it from dirt, scratches, and more. Ceramic Coatings can be applied to any surface of your vehicle, including wheels, rims, bumpers, paint, chrome trim, and more. Ceramic Coating Dayton OH also has an unsurpassed glossy finish with mirror-like reflection! We offer different levels of protection in order to service any vehicle, and to stand out above all the car detailing Dayton OH shops.
Ceramic Coating is a popular service that we provide at ZJ Detailing. We offer many benefits for your vehicle to better suit your needs. If you're interested in learning more about the different levels of services that we provide for Ceramic Coating, please don't hesitate to give us a call! We serve Piqua, Troy, Greenville, Saint Marys, Lima, Dayton, Fairborn, Beavercreek, Bellbrook, Kettering, Centerville, Springboro, Urbana, Springfield, Bellefontaine and surrounding areas.
Our goal is to give you all of the options to make an informed decision about your service selection.
Benefits of Getting Your
Tesla Ceramic Coated In Ohio
Give your already incredible paint a new shine!
If you have a Tesla, then you know that its paint is already in a class of its own. But what if we told you that there was a way to make it look even better? With the addition of a ZJ Detailing ceramic coating, your car will look brighter and shinier than ever before!
Act as a robust barrier against external elements!
The Tesla ceramic coating acts as a protective topcoat against potentially harmful factors that your car might encounter on the road, such as acid rain, corrosion from salty road conditions, bird droppings, tree sap, tar, and water spots.
Your car will stay clean longer than you think!
If you are like most people, you probably don't have time to constantly wash and wax your car. The good news is that the Tesla Ceramic Coating in Ohio will help your car stay clean for much longer than if it didn't have the coating. In fact, the coating will make it easier to clean your car because the dirt and grease will just slide off right away!
Waxing your car is something that takes time and effort, and let's be honest, it's not always fun. With ZJ Detailing Tesla Ceramic Coating in Ohio, you can say goodbye to waxing because the coating will provide the same level of protection!
The best part: no more sun damage!
One of the worst things about driving in Ohio is the sun damage. The UV rays can wreak havoc on your car's paint job, and over time, it will start to fade and look dull. But with the Tesla Ceramic Coating in Ohio, you don't have to worry about that anymore! The coating will reflect the UV rays away from your car, and it will stay looking new for years to come.
Frequently Asked Questions
When Should I get my Tesla Ceramic Coated?
Protect your Tesla from the start with a ceramic coating! Whether you're getting a new Tesla or it's a new model year, applying a ceramic coating now will ensure that your car is protected from the beginning. With a ceramic coating, you'll be able to enjoy the benefits of enhanced durability, easier maintenance, and a beautiful finish for years to come.
Can I get ceramic coating if my Tesla has ppf?
Enhance the longevity of your paint protection with a Tesla Ceramic coating – it works to preserve and extend the life of your existing protection!
What Can I do to preserve my ceramic coating?
Keep your Tesla's ceramic coating in top condition by washing it regularly and avoiding harsh chemical car washes.
Is a ceramic coating worth it?
Make an investment in the long-term protection and appearance of your car with ZJ Detailing's Tesla Ceramic Coating. Not only will it give your car a sleek and polished look, but it will also shield it from the elements and help it maintain a new-car appearance for longer.
You can either fill out the form below and we'll contact you right away or Call Us: