Tesla Paint Protection FILM
Tesla Paint Protection Film in Dayton
Are you a proud Telsa owner who wants to keep your vehicle looking like new? At ZJ Detailing in Ohio, we offer a custom-tailored, state-of-the-art paint protection film that can help prevent rock chips and scratches from damaging your car's paint. Our Xpel PPF product is the best way to maintain your car's resale value and make it shine for all of your adventures. Contact us today for a free consultation and protect your investment with our top-of-the-line product. When it comes to protecting your car, ZJ Detailing is the best in Ohio. For even more protection check our Tesla Ceramic Coating.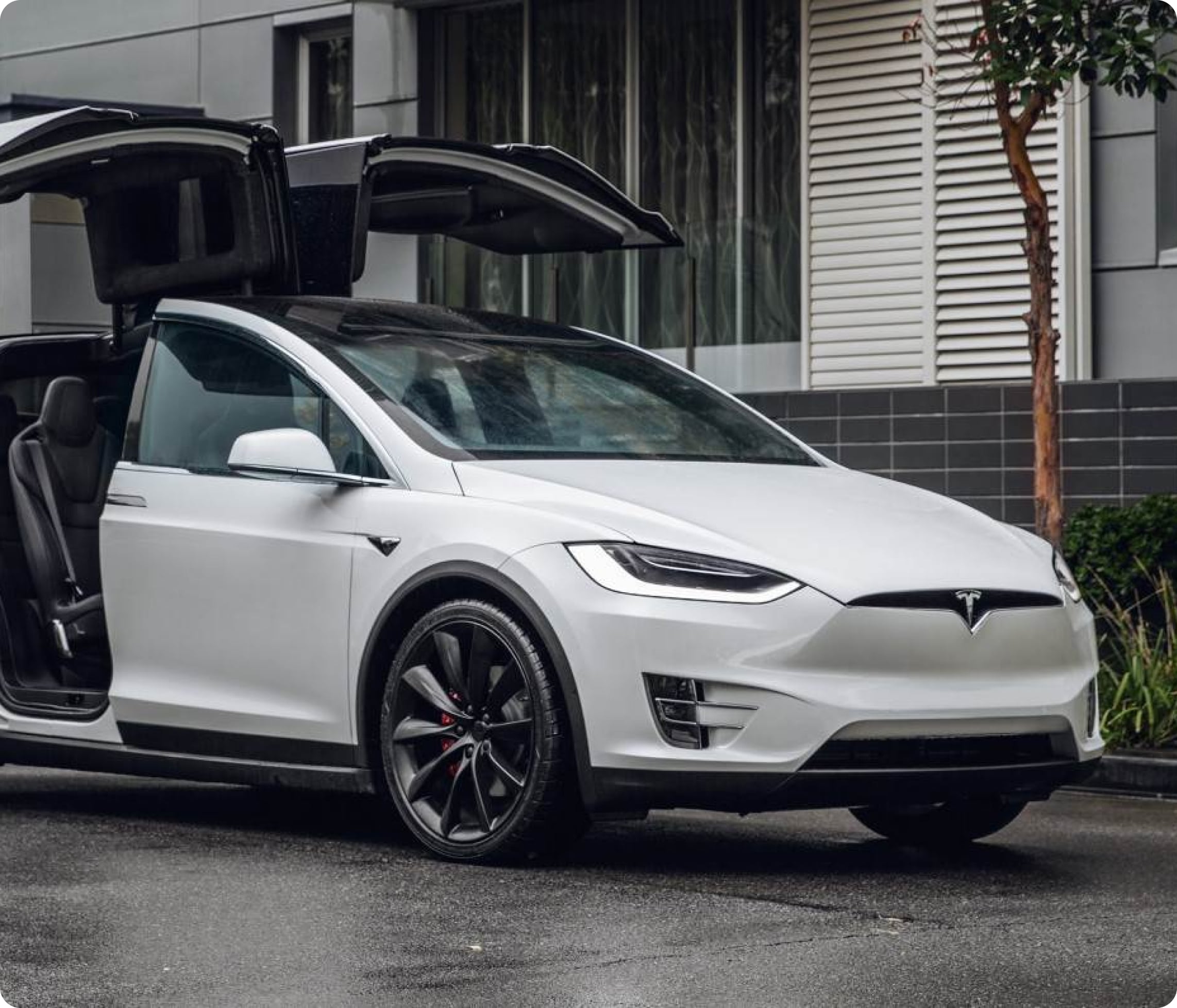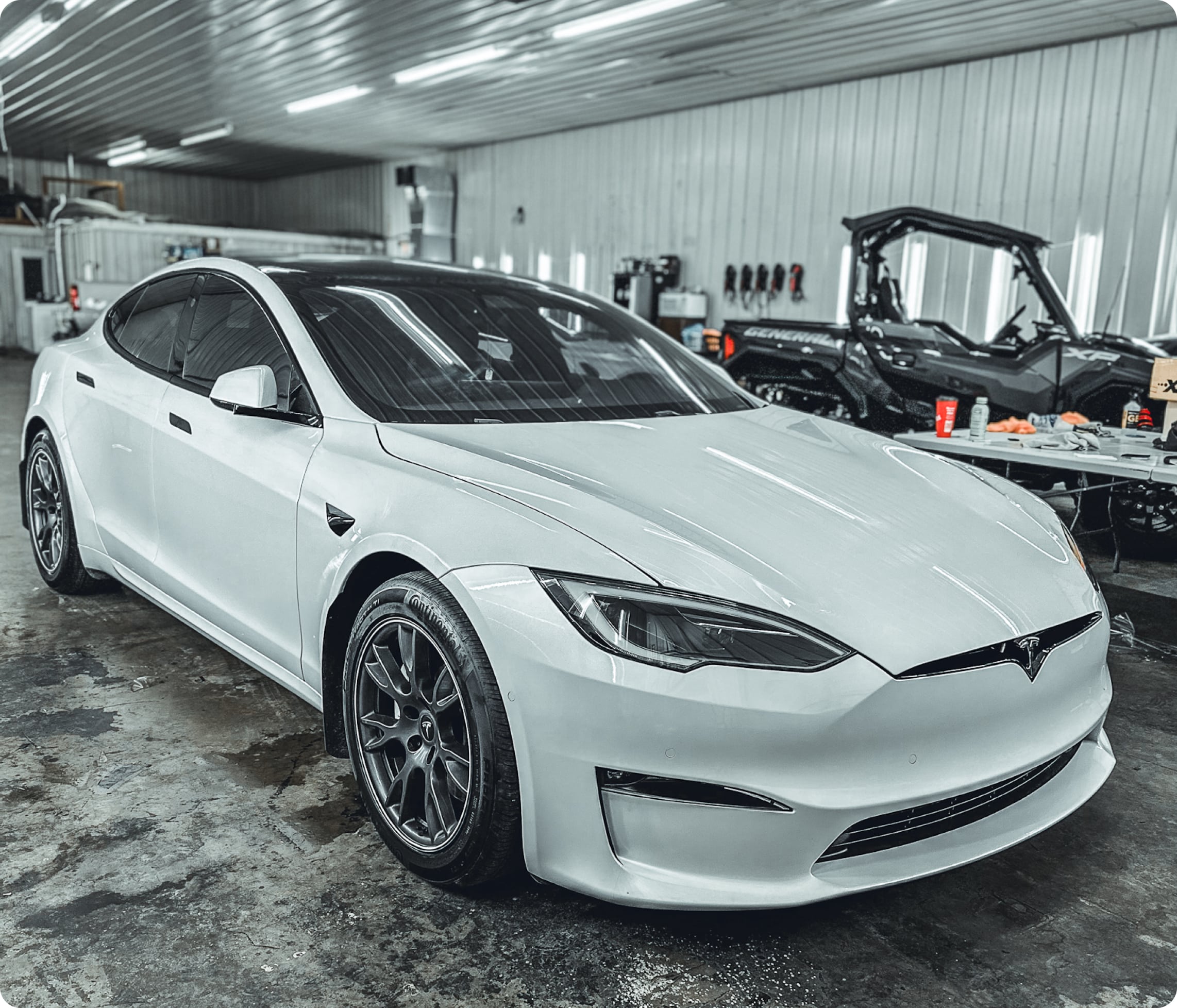 We Deliver Nothing Less Than Perfection
​At ZJ Detailing, we understand that Tesla owners demand the best for their vehicles. That's why we've invested in state-of-the-art tools and materials to provide our customers with the best paint protection film experience in Ohio. Our Xpel PPF product is the perfect solution for preserving your Tesla's paint and maintaining its resale value. Our trained detailers will make sure you get the most out of your investment, so visit our studio today and protect your vehicle with our top-of-the-line product.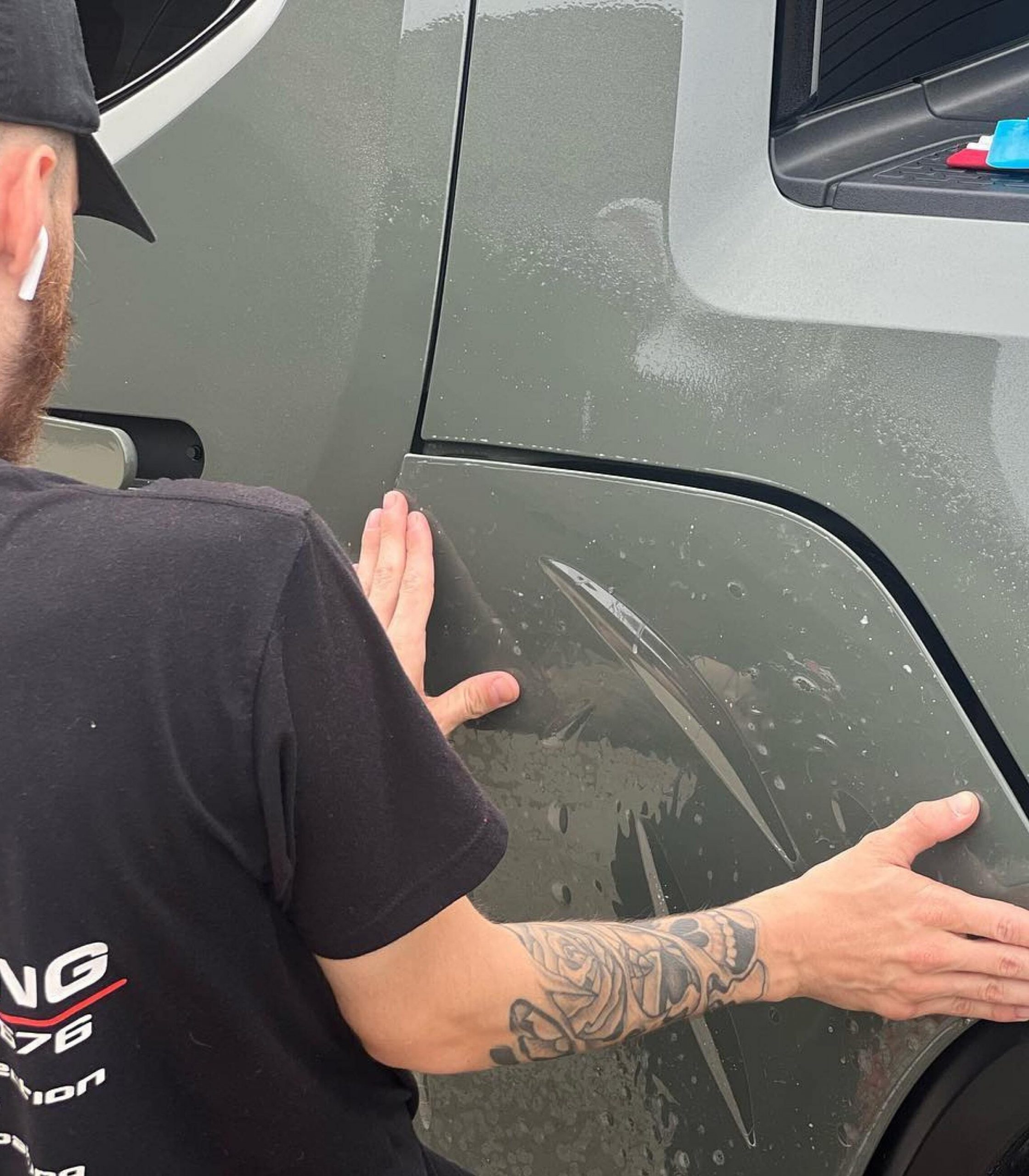 Why You Should Choose ZJ Detailing
At ZJ Detailing, we are dedicated to providing our customers with the best possible experience when it comes to paint protection film (PPF) installation. We are a Xpel Paint Protection Film Certified Trained Installer, which means that we have the knowledge and expertise to provide high-quality PPF services that protect your vehicle's paint and preserve its value.
​
Our team uses industry-leading techniques and materials to ensure that your PPF is installed correctly and provides maximum protection for your vehicle's paint. We are also committed to providing our customers with exceptional customer service and a smooth, hassle-free experience.
In addition to PPF installation, we also offer paint correction services to remove scratches and other blemishes from your vehicle's paint. This can help to ensure that your PPF stays on longer and provides the maximum amount of protection.
​
If you're in Dayton, OH and surrounding areas looking for high-quality PPF services, look no further than ZJ Detailing. Contact us today to learn more about our services and to schedule an appointment. We look forward to helping you protect your vehicle and keep it looking like new.
We have been in business since 2018. We are highly experienced and have the perfect facility -equipment's to perform this service.
Here are some great reasons to choose ZJ Detailing as your ONLY choice for all your vehicles needs:
Large clean facility to minimize possible contaminants during install and lots of room to work without being crowded
We're over-insured….just in case it's ever needed (most shops don't carry any insurance much less garage keeper coverage)
Cameras throughout our facility to ensure your vehicle is always being watched (safety, security)
A detailed inspection process, before, during, and after installation
Great customer service!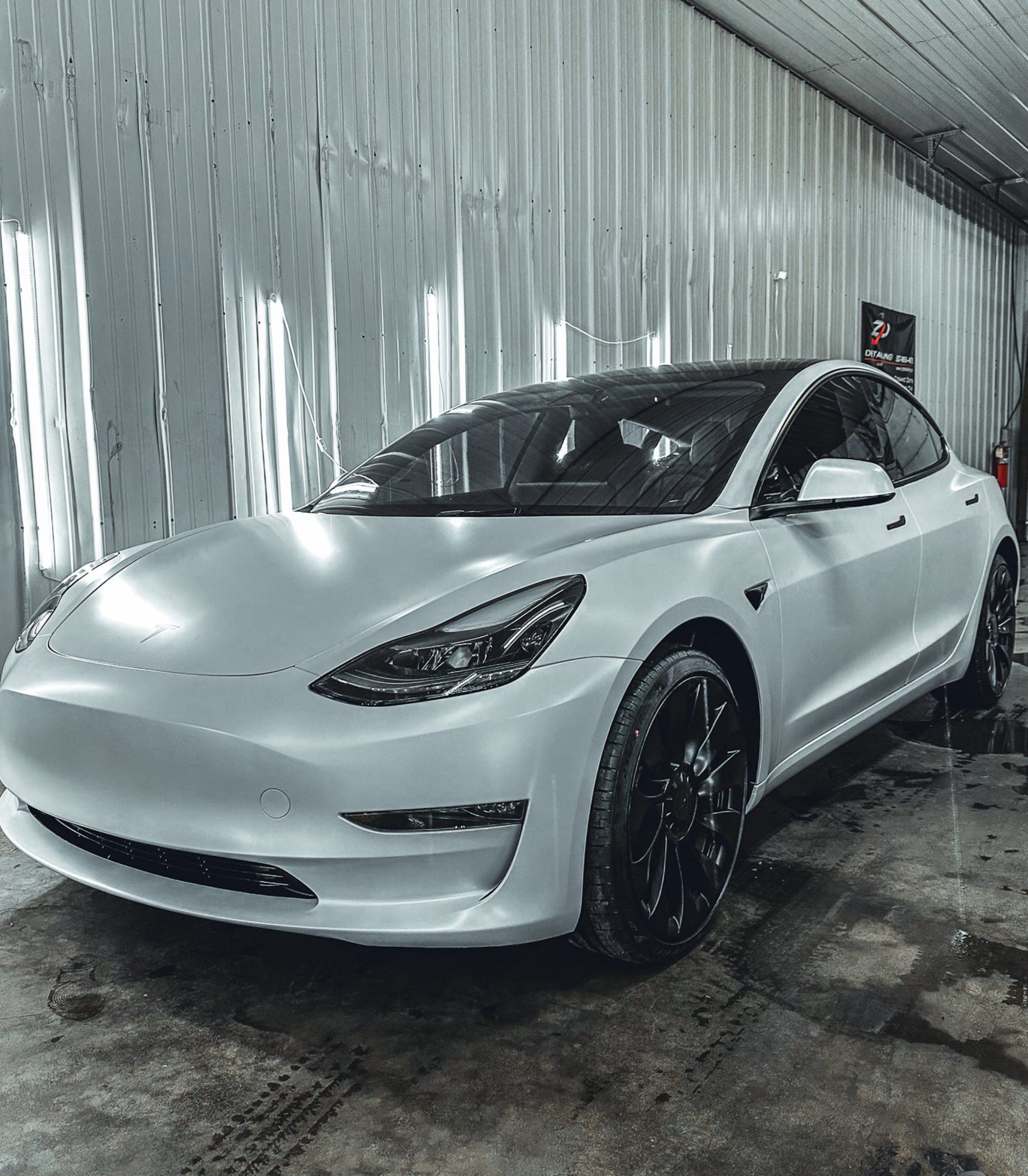 Tesla Paint Protection Film in Dayton OH
DESCRIPTION: Our entry level install protecting the leading edge of your vehicles nose from stones and road debris.
Full front bumper
18-24 inches leading edge of hood
Leading edge of fenders
Mirror caps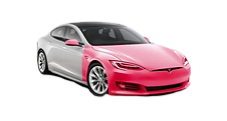 DESCRIPTION: This is our most popular install protecting the highest impact area of your vehicle, all while "eliminating the seam" were the film ends like the partial install giving maximum coverage and pleasing aesthetics.
Full front bumper
Full hood with wrapped edges
Full fenders with wrapped edges
Mirror caps
​DESCRIPTION:Like our Full Front install, but you get the rockers, a-pillar and top of roof to give you the ultimate protection.
Full front bumper
Full hood with wrapped edges
leading edge of fenders
Mirror caps/A-Pillars/Roof Edge
Rocker Panels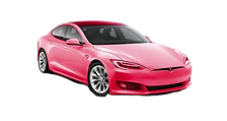 ​DESCRIPTION: For those looking for the best vehicle surface protection possible! Covering all the body of your vehicle will give you peace of mind while out and about, whether that's a daily commute to and from the city, or showing off your prized possession at the local car show.
Customized install of both bulk and software cut film for a for the best fit and finish. Covering all painted panels, and trim(painted).
The Plus with Tesla Paint Protection Film In Ohio
There are many benefits to having your vehicle professionally detailed. Some of the main benefits include
Say goodbye to paint fading & discoloration
One of the main benefits of investing in paint protection film is that it can help keep your vehicle's paint looking like new for years to come. This is because the film creates a barrier between your paint and the environment, protecting it from UV rays, bird droppings, tree sap, and other common causes of fading and discoloration.
An extra layer of hardcore scratch & chipping protection
In addition to protecting your paint from fading, the film also acts as an extra layer of protection against scratches and chipping. This is because the film is much harder than paint, so it can take the brunt of any impact that would otherwise scratch or chip your paint.
Preserve your vehicle's resale value
Another great benefit of the paint protection film is that it can help preserve your vehicle's resale value. This is because the film will protect your paint from wear and tear, so your car will look like new for years to come!
Lessen the chances of costly repaints and repairs down the road
By protecting your paint with the film, you'll also be lessening the chances of having to repaint or repair your vehicle down the road. This is because the film will take the brunt of any impact that would otherwise damage your paint, saving you money in the long run!
Easy to clean and maintain
Paint protection film is also relatively easy to clean and maintain. Unlike regular paint, which can be easily scratched or damaged during the cleaning process, the film is much more resistant to these types of damage. This means that you can clean your car without worrying about damaging the paint underneath. Additionally, the film is designed to be resistant to staining and fading, so it will continue to look like new even after many years of use.
A wide range of customization options
Another great advantage of paint protection film is that it is available in a wide range of colors and styles, so you can customize your vehicle to match your personal style. Whether you want a glossy finish, a matte finish, or a color-shifting film, there are many options to choose from. This means that you can protect your paint and still make your car stand out from the crowd.
Frequently Asked Questions
How long does PPF/Clear bra last?
Our paint protection film is designed to last for up to 10 years with proper care. However, we do recommend that you have it professionally removed and replaced every 5-7 years to ensure optimal performance.
Do you Wrap edges for a seamless look?
Yes! We wrap all edges with our clear bra film to ensure that your paint is fully protected.
When Should I get Paint Protection Film applied to my Tesla?
Protect your Tesla's paint from day one by having PPF installed as soon as you receive the vehicle.
Is a PPF worth it?
Absolutely! Tesla paint protection film is an excellent investment, as it will protect your paint from just about any kind of harmful external factors and elements on the road. In addition, it will also make your car easier to clean and keep looking pristine!
How do I properly maintain ppf?
Caring for your PPF-protected car is easy! Just wash and wax it as you would normally, and avoid using harsh chemicals or abrasives on the film. We professionally recommend upgrading and having ceramic coating applied for the ultimate protection.
You can either fill out the form below and we'll contact you right away or Call Us: