Tinted car windows add a calm and distinct appearance to your vehicle after application. Not only do they improve the aesthetic, but also offer important safety features. One of these features is increased protection against UV rays, which makes it more difficult for potential thieves to see inside your car.
In addition to added security, tinting also helps regulate the temperature inside your vehicle. During the hot summer months, it keeps out excess heat and prevents sunburns. In the event of an accident, the window tint films also provide protection by holding broken glass together and preventing flying glass fragments from entering the vehicle.
When selecting the best window tinting for your car, it can be challenging to sort through the various options and materials available. To make the process easier, consider professional car window tinting in Troy, Ohio. Whether you want to improve the aesthetics, safety, or both aspects of your vehicle, professional window tinting offers a range of options to choose from.
This guide has been put together to assist you in choosing the right car window tint in Dayton, OH, ensuring you make the most informed decision for your vehicle.
Discover the Benefits of Tinting Your Car Windows
Car window tinting offers numerous benefits beyond just enhancing the appearance of your vehicle. When considering window tinting, it's important to evaluate the options to find the best fit for your needs.
Skin Protection: Long-term exposure to the sun while driving can be harmful to your skin. Car window tinting reduces UV exposure, allowing you to commute without fear of sunburns.
Prevention of Fading: Direct sunlight can cause the interior of your vehicle to fade quickly. Window tinting blocks UV light, protecting your car's upholstery from damage.
Safety: In the event of an accident, tinted windows can help keep the glass intact and prevent shattering, as the tint acts like a paint protection film. This protects you from flying glass fragments.
Aesthetic Enhancement: A professionally applied tint gives your car a sleek and sophisticated look, while also providing a sense of privacy.
Increased Privacy: Darkly tinted windows can make it harder for others to see inside your car, depending on the degree of tint and local regulations. This enhances privacy and protects against nosy onlookers.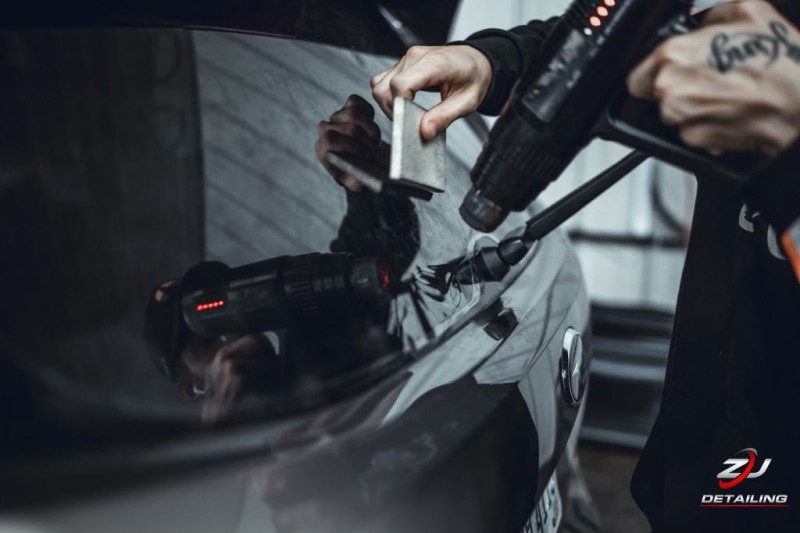 Important Factors to Weigh Before Tinting Your Car Windows
1. Consider Visibility
When considering car window tinting, it's important to consider visibility as one of the drawbacks. Dark window tinting can make it difficult to see through, which can increase the risk of accidents on the road. This is why police may pull you over if your tint is too dark. Consider how the tint will affect your visibility, especially at night, during rain, or when the sun sets. Safety should always be your top priority.
2. Block Out Sunlight
One of the main benefits of car window tinting is the reduction of sunlight. Tinting effectively blocks out harmful UV rays and reduces glare from the sun or other vehicles' headlights. If you live in a snowy area, tinting can also prevent snow and ice from reflecting the sun's light. This helps reduce eye strain and wrinkles.
3. Protect Your Health
Window tinting can provide an extra layer of protection against various health problems, such as skin cancer, wrinkles, cataracts, skin injury, and premature aging. If you have photosensitivity, sun allergies, or other health conditions, darker tinting may be allowed by exception.
4. Avoid Damages
Poor quality window tinting can easily bubble, peel, or crack, requiring you to replace the film and spend more money. Hiring a professional for window tinting can help avoid these problems and extend the life of the tint.
5. Seek Professional Help
For the best results, it's important to seek the help of a professional. An expert will ensure proper application and detailing of your vehicle's windows, providing you with a long-lasting and high-quality tint.
ELEVATE YOUR RIDE WITH ZJ DETAILING'S CERAMIC WINDOW TINT!
Looking to enhance your car's appearance, comfort and privacy? Look no further than ZJ Detailing in Dayton, OH! Our expert team offers the best in window tinting services and products, using state-of-the-art techniques and top-quality materials.
Ceramic tinting is our most sought-after solution for a reason. This cutting-edge tint provides unbeatable benefits such as stylish looks, UV protection, reduced heat, and greater privacy.
We understand that every customer has unique needs and expectations. That's why we take the time to listen to your concerns and answer any questions, to ensure we provide the best window tinting solution for you.
Don't wait, take your ride to the next level with ZJ Detailing. Contact us today for more information!"